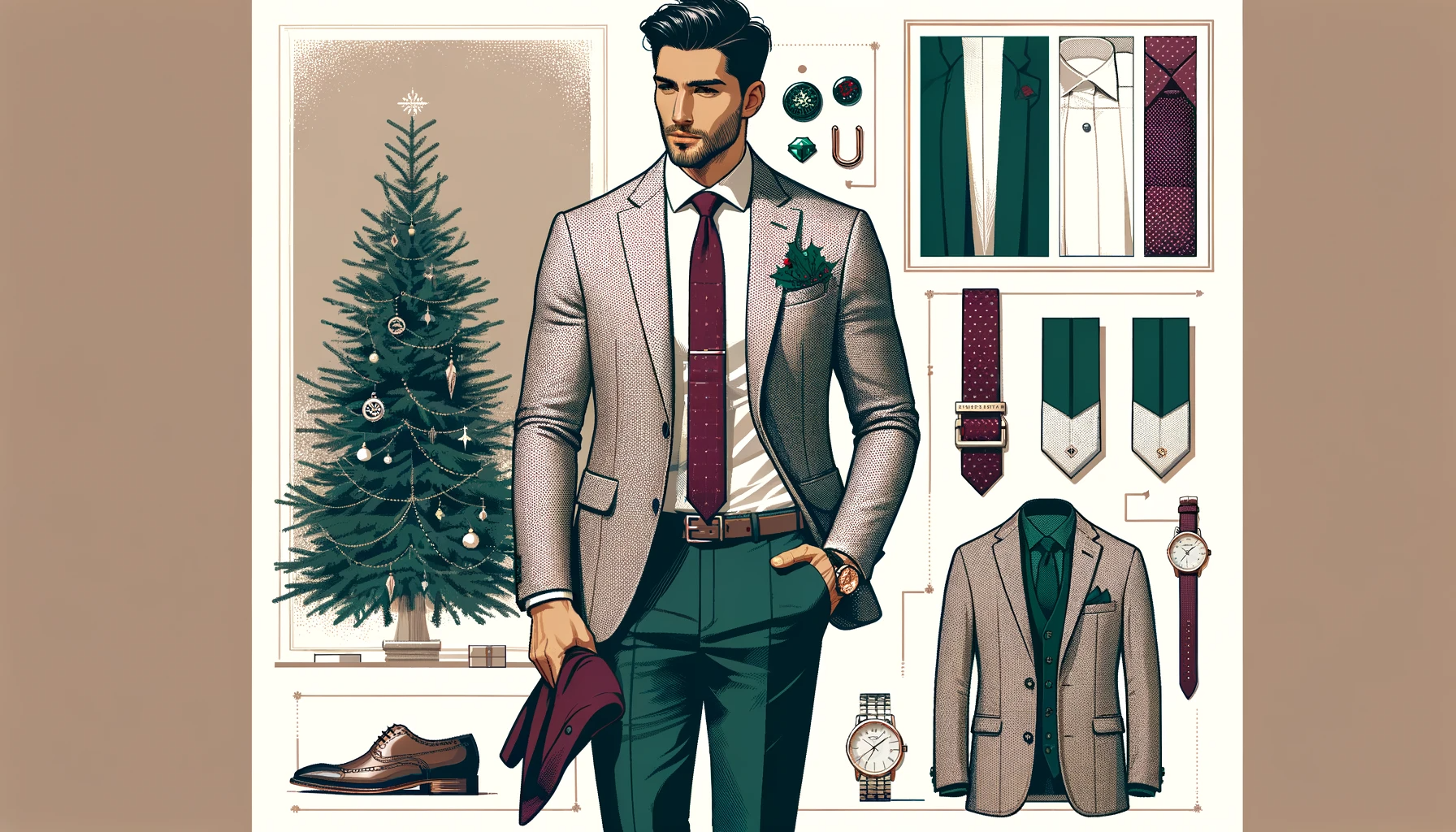 The work Christmas party is not just a festivity—it's a chance to display your personal style and professional finesse. As 2024 rolls around, here's how you can strike the perfect balance between holiday cheer and sartorial elegance.
Key Takeaways
| Aspect | Key Takeaway |
| --- | --- |
| Dress Code | Match the formality of the event; when in doubt, go business casual. |
| Color Choices | Embrace festive colors but in moderation. |
| Accessorizing | Use accessories to add a festive touch. |
| Brand Selection | Opt for luxury brands to elevate your look. |
| Footwear | Prioritize style and comfort. |
| Outerwear | Select a coat that complements the outfit and the occasion. |
Understanding the Dress Code
The Event's Formality
Before deciding on your outfit, consider the venue and nature of your work Christmas party. A black-tie event at a high-end venue will call for a tuxedo, while a casual gathering might only require a sweater and jeans.
Business Casual: The Safe Bet
For the in-between dress codes, business casual is your safe haven. Pair a crisp shirt with tailored trousers from Marco Pescarolo. Finish the look with a blazer; the ones from Corneliani strike an excellent balance between formal and festive.
Color and Pattern Play
Embracing Festive Colors
Incorporate festive colors like reds, greens, or blues, but remember—subtlety is key. A burgundy tie or an emerald pocket square can add just enough holiday spirit without overpowering your outfit.
Patterns That Impress
Patterns are welcome but opt for classic ones like plaids or checks. A plaid shirt under a navy blazer can be both holiday-appropriate and stylish.
Accessorizing Wisely
Tie the Look Together
Ties and pocket squares are where you can have a bit of fun. A themed tie from Tom Ford adds personality, while a silk pocket square introduces luxury and texture.
Watches and Cufflinks
A watch is both functional and a statement piece. Pair it with cufflinks that have a seasonal motif but are still refined.
Footwear Fundamentals
Shoes That Make an Impression
Footwear should be chosen for both comfort and style. A pair of Oxfords or loafers from Santoni will serve you well throughout the evening.
Top Coat Tactics
The Perfect Overcoat
An overcoat is not just for warmth; it's part of your overall impression. Select a coat from Moorer that complements your outfit and fits the occasion.
The Complete Look: A Table Guide
| Item | Brand Suggestion | Notes |
| --- | --- | --- |
| Shirt | Luigi Borrelli | Crisp, possibly with a subtle pattern |
| Trousers | Marco Pescarolo | Tailored for a sharp silhouette |
| Blazer | Corneliani | High-quality fabric, festive color |
| Tie/Pocket Square | Stefano Ricci/Tom Ford | Festive colors or patterns |
| Watch | Rolex | Classic, understated elegance |
| Shoes | Santoni | Comfortable yet stylish |
| Overcoat | Moorer | To match the outfit and occasion |
As you navigate the social intricacies of your work Christmas party in 2024, your attire should be the least of your worries. By blending contemporary fashion with timeless elegance, you'll be able to enjoy the festivities with confidence and style.