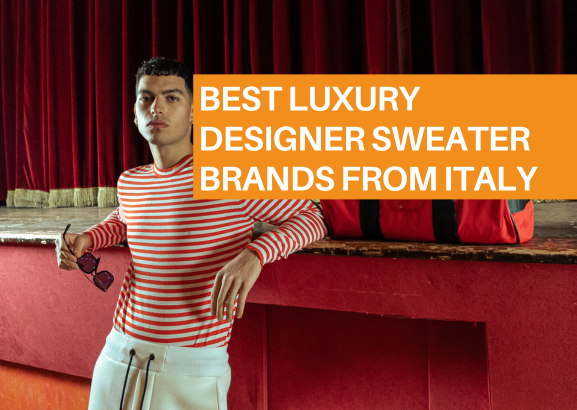 The Most Luxurious Italian Designer Sweater Brands for Men
Table of Contents
| Brand | Brand Information |
| --- | --- |
| Brunello Cucinelli | High-end luxury, focus on cashmere |
| Cesare Attolini | Naples-based, exceptional craftsmanship |
| Isaia | Vibrant colors, Neapolitan style |
| Kiton | Premium quality, tailored fit |
| Barba Napoli | Innovative styles, Naples-origin |
| FEFÈ Glamour Pochette | Eclectic and bold designs |
| Fioroni | Sustainable luxury, unique materials |
| KNT | Urban aesthetic, casual luxury |
| Marco Pescarolo | Contemporary styles, premium fabrics |
| Paul&Shark | Nautical themes, quality craftsmanship |
| Zilli | Exquisite detailing, ultra-luxe fabrics |
---
Ah, sweaters! Not just a garment but a statement of style, luxury, and comfort. When you're aiming for the trifecta of coziness, fashion, and prestige, Italian designer sweaters are your go-to. Let's delve into the crème de la crème of men's luxury sweaters from Italy.
Brunello Cucinelli: The Emperor of Cashmere
Brunello Cucinelli Sweaters
First on our list is a brand synonymous with luxury: Brunello Cucinelli. Known for their impeccable craftsmanship and high-quality materials, especially cashmere, a Brunello Cucinelli Sweater is a piece of art. Perfect for those looking for mens luxury cashmere sweaters.
Why it's a Must-Have:
Exceptional quality
Timeless design
Premium cashmere
Cesare Attolini: Naples in Every Stitch
Hailing from Naples, Cesare Attolini is a brand that brings Italian culture and craftsmanship right into your wardrobe. The cardigan design for men is innovative, and a Cesare Attolini Sweaters can elevate any outfit.
Why it's a Must-Have:
Unique designs
Expert craftsmanship
High-end fabrics
Isaia: The Color Maestro
Isaia is the brand you go to when you want to make a statement with color. Known for their vibrant and bold hues, an Isaia Sweater is the epitome of Neapolitan style. Ideal if you're searching for designer sweaters for men that scream personality.
Why it's a Must-Have:
Bold colors
Versatile styles
Quality materials
Kiton: Tailored to Perfection
Kiton is the epitome of luxury and tailored fit. Their sweaters and Kiton Sweaters ooze sophistication. Perfect if you're on a mens designer sweater sale hunt but want something everlasting.
Why it's a Must-Have:
Tailored fit
Classic styles
Unbeatable quality
---
Key Takeaways
Best for Cashmere: Brunello Cucinelli
Most Innovative Designs: Cesare Attolini
Best for Color: Isaia
Best Tailored Fit: Kiton
Stay tuned as we unveil more about the artistry and luxury of Italian sweater brands for men. The next segment will bring even more top-tier brands to your attention!
Barba Napoli: The Rebel of Naples
Breaking from tradition but not compromising on quality, Barba Napoli offers sweaters that blend both classic and innovative designs. A Barba Napoli Sweater is perfect for those who want to experience mens designer pullover sweaters with a twist.
Why it's a Must-Have:
Eclectic styles
Quality craftsmanship
Naples-inspired
FEFÈ Glamour Pochette: For the Bold and Brave
FEFÈ Glamour Pochette isn't your regular brand. With its exciting and bold designs, it's the perfect choice for the man looking for an expensive men's sweater that makes a statement.
Why it's a Must-Have:
Bold patterns
Eye-catching designs
Eclectic style
Fioroni: The Eco-Conscious Choice
If you're into sustainable luxury, Fioroni is your brand. With a range of materials from cashmere to unique blends, Fioroni Sweaters set a new standard for high-end mens sweaters.
Why it's a Must-Have:
Sustainable materials
Unique designs
High-quality craftsmanship
KNT: The Urban Chic
Perfect for the modern man, KNT offers a range of sweatshirts that bring casual luxury to the urban scene. It's the brand to check out if you're in the market for mens designer crew neck sweaters.
Why it's a Must-Have:
Urban aesthetic
Versatile options
Premium quality
---
More Key Takeaways
Best for Eclectic Styles: Barba Napoli
Best for Bold Patterns: FEFÈ Glamour Pochette
Best for Sustainability: Fioroni
Best for Urban Chic: KNT
---
FAQs: Adding More Than Just Style to Your Wardrobe
What is a High-Quality Sweater?
A high-quality sweater is made from premium materials like Cashmere or Virgin Wool, coupled with excellent craftsmanship.
Why are Designer Sweaters So Expensive?
Designer sweaters command a high price due to the quality of materials, craftsmanship, and the brand name itself.
What is the Most Expensive Knitwear?
Brands like Brunello Cucinelli and Cesare Attolini offer some of the most expensive knitwear, especially those made from rare materials like Vicuña.
What is Better Than Cashmere?
Vicuña is considered more luxurious and is rarer than cashmere.
Is Cashmere Considered Luxury?
Yes, cashmere is considered a luxury fabric, often found in high-end brands like Isaia and Kiton.
---
By diving into these Italian designer sweater brands, you're not just buying a piece of clothing; you're investing in a piece of art that elevates your style, comfort, and luxury. Keep these brands on your radar, and you'll never have to compromise on quality or style.