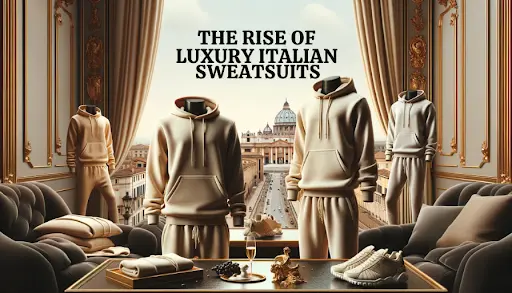 The Rise of Luxury Italian Sweatsuits: Diesel, Kiton, and KNT Kiton
Key Takeaway Table
| Brand | Signature Style | Price Range | Perfect For |
| --- | --- | --- | --- |
| Diesel | Urban & Edgy | $$$ | Casual Outings |
| Kiton | Elegant & Timeless | $$$$$ | Upscale Events |
| KNT Kiton | Contemporary & Sleek | $$$$ | Everyday Luxury |
---
Ah, the Italian fashion landscape. Known for its luxurious materials, attention to detail, and timeless designs, Italian brands are synonymous with elegance and class. But what happens when luxury meets comfort? Enter the world of luxury Italian sweatsuits and tracksuits.
Diesel: The Urban Edge
Italian Designer Luxury Sweatsuits
DIESEL, a brand known for its urban and edgy vibe, has taken the sweatsuit game to another level. No longer just for lounging or a workout session, Diesel's tracksuits are designed for those who want to make a statement on the streets. With their unique patterns and vibrant colors, a Diesel sweatsuit is an embodiment of modern street style.
Pair your Diesel tracksuit with cool sunglasses and a sleek backpack for that ultimate streetwear look.
Kiton: Timeless Elegance
Italian Designer Luxury Sweatsuits
Kiton is all about elegance, and their sweatsuits are no exception. Made from the finest materials, Kiton tracksuits are a blend of traditional Italian tailoring with the comfort of casual wear. These are not just any tracksuits; they are a statement of luxury.
Kiton's sweatsuits can be effortlessly paired with their elegant blazers for a sophisticated yet relaxed look. Add a pair of luxury cufflinks and a pocket square to elevate the ensemble even further.
KNT Kiton: The Contemporary Flair
Italian Designer Luxury Sweatsuits
For those who are looking for something contemporary yet luxurious, KNT Kiton is the answer. With a sleek design, minimalistic patterns, and a focus on comfort, KNT Kiton tracksuits are perfect for everyday luxury.
Pair it with some of Kiton's elegant shirts or a stylish sweater for a complete look. And don't forget to accessorize with a chic bracelet or a statement belt.
---
List of Must-have Accessories to Pair with Your Luxury Tracksuit:
---
In conclusion, gone are the days when tracksuits were only for sports or lounging around. With brands like Diesel, Kiton, and KNT Kiton, luxury Italian sweatsuits have transformed into versatile fashion statements. Whether you're heading to an upscale event or just a casual day out, there's an Italian sweatsuit waiting to elevate your style.
For more on Italian fashion and luxury brands, check out our brand collection or dive deeper into our blog to explore topics like the most luxurious Italian designer sweater brands for men.
Stay stylish and comfortable!