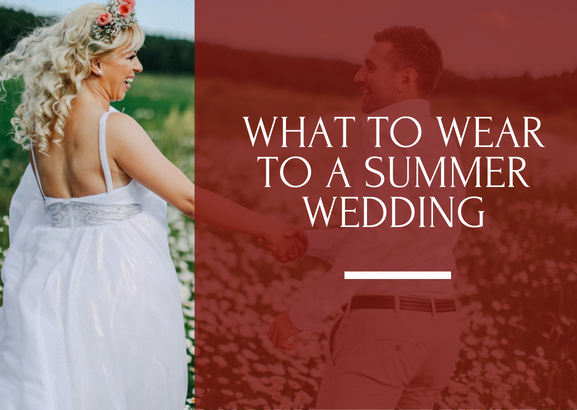 The Ultimate Guide For Buying A Suit For A Summer Wedding: Keep Cool and Look Your Best
Summer weddings are a joyous occasion - but they can also be a little daunting, especially if you're not sure what to wear. That's why we've put together this guide, to help you choose the perfect suit for your summer wedding. In this post, we'll discuss the different colors and fabrics which work well for weddings in the summertime, as well as some of our favorite Italian brands and styles. So whether you're looking for something classic or something more contemporary, we have you covered!
In this guide we will summarize the best suit solutions which will stop you from sweating non-stop at your next wedding.
Let's summarize this article before we get into it:
First choose a fabric, Cotton, Linen, or Fine Wool are the best options.

Secondly, choose a color, we recommend navy, tan, charcoal, or something with a summery pattern.

Choose a deconstructed suit - this is the best way to stay cool during a summer wedding
Accessorize - make sure you're wearing some beautiful Italian accessories to allow you to bring out the full color of your outfit
Feel free to wear a patterned suit - just make sure you pull it off properly.

If you have a beach wedding coming up, then check out our guide to Beach Wedding Attire for men
What are the best suit fabrics for a summer wedding?
If you're wondering what the coolest fabric is - then we'd definitely recommend linen or cotton. Another great option would be a superfine wool, such as Wool 13.5 Micron, which is actually thinner than most other fabrics. All of these materials are perfect for a summer wedding suit.
You can also look at some kind of a dual or triple composition. For example, we have a great range of Sartorio Napoli Italian suits which have three different fabrics inside, including Mohair.
Sartoria Napoli Navy Mohair & Virgin Wool Suit
This is a really breathable fabric, so it's perfect for summer.
Here is another example, from Cesare Attolini this time - this suit is a mix between Wool 120's and Cotton. A perfect example of a wedding suit that will allow you to enjoy the wedding ceremony without worrying about being too hot.
Cesare Attolini is one of the most renowned suitmakers in the world - and Vincenzo Attolini is considered by many to be the inventor of the modern Sartorial Neapolitan Style.
The lapel of this particular suit is a bit wider, making it a perfect suit for a summer wedding.
The style and breathability of this suit makes it a great option.
Charcoal Gray Wool 120's and Cotton Summer Suit



The final material we're going to talk about is Wool 14 Micron - which is one of the finest wools in the world. This particular suit is a fantastic example from Kiton - Kiton is one of the best Italian Suit Makers
This suit has a plaids & checks pattern - which would simply look exceptional in the hot summer sun. Your biggest worry with such a wonderful suit is that you look better than the groom himself!


Navy Summer Suit Wool 14 Micron From Kiton


Let's summarize this section, what are the best suit fabrics for a summer wedding:
Cotton - Breathable and light

Linen - Thin and exceptional for summer

Composition - Look for thin fabrics together

Fine Wool such as 14 Micron - Exceptionally thin

Mohair is another great fabric, albeit a bit more expensive - and best as part of a composition.
If you're not sure how to wear a suit, then check out our golden rules to wearing a suit.
What are the best suit colors for a summer wedding?
There are many different acceptable colors and patterns to wear to a summer wedding, but if you want to be absolutely sure, then definitely wear one of the following summer colors:
White or Cream

Navy Blue

Tan or Light Brown

Charcoal or Gray

Burgundy or Maroon

Black in some countries
There aren't many rules to what you can and can't wear to a summer wedding in terms of colors, but definitely do not wear black. Although in some countries wearing black at a wedding is perfectly acceptable, in others it's not. We therefore recommend that you stick to one of the colors that we mentioned above. You absolutely cannot go wrong if you stick to one of them.
White or Cream summer wedding suit Pinstripe suit
This particular suit from Kiton is a fantastic example of a summer wedding suit. This combination of a creamy white with blue stripes - doubled with the suit fabric composition of 50% linen and 50% cotton - we would argue this is the absolutely ideal summer suit.



It's a completely deconstructed blazer also, as it has no lining, and has a double venting to allow even more air to get through. Wear this with some colorful accessories such as a fantasy colorful pocket square with a matching shade tie, a white dress shirt will work here - and finally a pair of Italian-made dress shoes - and you'll be watching a wedding in style.
Navy Blue Summer Wedding Suit
Navy Blue is one of the most popular colors for a summer wedding. It's professional, it looks great in the summer sun - and it goes with almost everything. This particular suit is from Zilli and as you can see it's a really beautiful shade of navy blue. The fabric composition is 100% wool - meaning it's not the best in terms of fabric, but in terms of color and pattern, this navy blue pinstripe suit would be amazing for a summer wedding.


Zilli is a French brand - but they have fully embraced the sartorial traditions laid down by their Italian brothers. In fact, Zili is half French and half Italian and they make fantastic suits that can be worn all year round.
The color of a suit can play a big role in how well it compliments your complexion and overall look for a summer wedding. While black is not always recommended for these occasions, navy blue is a versatile color that can be dressed up or down depending on the event. The fact that it goes with many other colors means you can more easily build and accessorize around it.
Gray or Charcoal Summer Wedding Suit
It's important to not get a suit which is too bright - and also that it is matte so that it absorbs the light. This allows you to look your best in the wedding photos, a great example of this would be this wonderful charcoal gray summer wedding suit from Tom Ford.