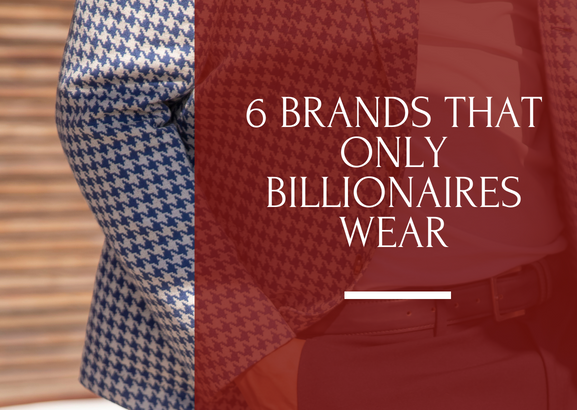 Ultra high end brands

| Brand | Country | Founded | Known For |
| --- | --- | --- | --- |
| Zilli | France | 1965 | Leather jackets and coats |
| Kiton | Italy | 1968 | Suits and Blazers |
| Stefano Ricci | Italy | 1972 | Crocodile skin belts and baseball caps |
| Tom Ford | USA | 2006 | Suits and Accessories |
| Brioni | Italy | 1945 | Suits and Overcoats |
| Cesare Attolini | Italy | 1930s | Suits, Blazers, and Overcoats |
6 Rich people brands that only the ultra-wealthy can afford - Old money billionaire brands
So you're looking at the top 1% of rich people and wondering what they wear - Well throw that out the window. These brands are for the top 0.001%.
Forget Gucci, Versace, and others - These are masters of tailoring (Sartorial) clothes. Almost all the products made by these stylists for the filthy rich are handmade in Italy. Gucci, versace, etc. are not old money brands - they are new money brands. The real gentlemen of the world don't wear brands like this. These Ultra high end brands don't consider other brands their competitors - because only they can do what they do.
If you are wondering what wealthy people are really wearing, you've come to the right place.
Although unobtainable for some - these brands are worn all over the world by famous people. These are all ultra luxury brands that are normally worn by billionaires.
If you are wanting to look as if you have money, look no further than this article right here.
What brands do the ultra-wealthy wear, and where do rich people shop?
The 6 brands we are going to talk about in detail are:
Each of these companies have "rich people stores" around the world - for example if you spend over a certain amount at Stefano Ricci every year you have access to their ultra-luxurious VIP club. Italian rich brands are harder to spot than other brands, because they are "stealth wealth brands" - meaning they don't flaunt their logos across their clothes.
These are the top 6 brands for people with a very high net worth. Four of them are Italian, and Zilli is "mezza Italiano" (which means half Italian) - half of their clothes are made in Italy, and half are made in France.
These brands are exclusive. In order to wear them regularly, you need to have access to the funds to afford them.
Looking for a weekend bag from one of these designers? Check out our article here on the best luxury designer brands making weekend bags!
With most items costing at least $1000 - you can see how easily this can add up to upwards of $10,000 for a single outfit.
Example of an ultra-rich person who wears Kiton
A great example of this is Stephen Harvey - The American TV show host.
If you watch a selection of his clips on YouTube, you will see that in each one he is wearing what looks like a different Kiton suit.
It's not confirmed to be Kiton, but they definitely look like them! That means each episode the company spends a minimum of $2,000 just on Stephen's suit!
It is incredibly difficult to find proof of anyone actually wearing Kiton, but the following people are known Kiton-enthusiasts:
Vladimir Putin

Bruno Mars
These are two people who love old money luxury brands. Kiton are also famous for slacks - What are slacks? They're a less formal pair of dress pants.
If you're looking for something a little bit more affordable, check out our article on the most affordable Italian sartorial brands here
Here's our rundown of the top 6 expensive brands in the world, the brands that will really make you look rich:
Zilli
The only non-italian company on our list - Zilli.
Founded in 1965 Zilli started by making leather jackets and coats.
IsuiT is happy to announce a new selection of leather jackets, and stylish fur coats from Zilli which will be available on our website soon - Right now we've just taken a huge order of Zilli Shirts also.
The ZILLI jacket is a proud symbol of craftsmen's excellence, as it was created in our Lyon "ateliers." Some of the jackets have acquired legendary status and outlasted time, becoming synonymous with triumph. Only the best skins are chosen by ZILLI's House.
Known for crocodile and snakeskin bags, this French powerhouse is capable of using any leather available on the luxury skin market.
In 2010 Zilli changed the world of sunglasses and glasses forever - when they released one of the most modern and innovative lines of eyewear the world has ever seen.
Kiton
Kiton is a classic Sartorial company. Taking inspiration from their Neapolitan brothers in style, Cesare Attolini, Kiton and Attolini quickly took over the Sartorial fashion game.
Kiton is a favourite of Vladimir Putin, Bruno Mars, and many more.
It is almost instantly recognisable by the quality of the fabrics. It's very hard to explain, but you can almost immediately see that someone is wearing Kiton.
Best known for their suits and their blazers, Kiton has been practising the art of Sartorial fashion since 1968.
They started to modernise, including creating high-quality handmade jeans.
Although they are one of the oldest fashion houses, just like the more modern ones Kiton has been working to get with the times. Their two sister companies, for example, KNT and Kired, experiment with new fabrics and new styles.
They also released a Women's line, and are constantly modernising their trade.
Finally, after realising that the art of hand-stitching suits was dying out, they invested heavily in teaching the next generation of tailors to continue the artisan skill.
Kiton is the true definition of an Old Money Brand.
Stefano Ricci
Stefano Ricci is one of the most exclusive luxury brands in the world. It is known for its ostentatious clothing such as bright orange crocodile skin belts and crocodile skin baseball caps.
Stefano Ricci is another big fan of crocodile skin - but they do it in a slightly different way. Using bright colours to exentiate their belts - this company knows exactly what they're doing.
Stefano Ricci was one of the first companies from Italy to embed themselves in the Asian market. At the time, people called them crazy, but they did it anyway. With huge success in their flagship stores in Asia, Stefano Ricci brought the "made in Italy" Sartorial exclusivity to the Eastern market. It is an old money brand for billionaires.
Established in 1972 it is a very similar story to most Italian fashion brands. A typical family affair, they are known as "the clothier to the top 0.001%".
One of the things that Stefano Ricci has carved out a name for themslves in is creating jeans. Their jeans are incerdibly high quality - and are reserved only for those who can afford them. The average cost of a pair of Stefano Ricci jeans is $850.
Tom Ford
Tom Ford is an exception.
An American with such an eye for fashion that he can take over the world of Italian fashion is an incredibly impressive feat.
In 1994 he became the creative director of Gucci - A rare feat for a non-italian. It was here that he really refined his trade, and immersed himself in the world of fashion.
When people ask why Tom Ford left Gucci - the answer is simple. He simply felt as if no-one listened to him. A frustrating thing for any worker, but for a talented fashion designer who had his vision set on changing the world - it simply could not continue. While at Gucci he not only had the managerial skills which saved Gucci from bankruptcy and created an Italian fashion powerhouse - he also was responsible for some of the most stunning designs the house has ever seen. Here's an amazing example of Tom Ford shoes - built for stylish men:
After his shocking departure from Gucci he went on to create his very own fashion brand - and Tom Ford now tailors for the super wealthy of the world. With the average Tom Ford Suit costing around $3000 - you need to be in the top 1% at least to wear this designer.
Best known for their suits and accessories (bags mainly) - Tom Ford often uses crocodile leather, such as this incredible Crocodile skin rucksack:
Brioni
It's an almost impossible feat to be the tailor of 007. But Brioni has managed this feat. Based in Rome this company is the personal tailor of many of the world's wealthiest people.
Founded in 1945, and the inventor of the Trunk Show (where a tailor will come to your hotel room and sell you their wares from a trunk)
Just like the majority of companies on this list - Brioni opened a tailoring school in order to continue the artisan tradition.
Mainly known for their suits and overcoats - Brioni is a household name in the world of Sartorial luxury.
They even do bespoke clothing - so if you go to a Brioni store you can get a made to measure suit.
Brioni is mainly known for their suits.
Cesare Attolini
It would be unfair to write an article without including Cesare Attolini. Started by Vincenzo Attolini in the 1930s.
Vincenzo Attolini is considered by many to be the father of Italian Sartorial fashion. Born in the city of Napoli, this style of fashion was originally an imitation of British suit design.
After World War II, the traditional English style was not what people wanted anymore. They wanted something more unique - which is where Vincenzo Attolini came in. With more of a focus on soft shoulders, higher arm holes and slimmer linings his brand quickly became popular with members of High society - even being worn by royal family members.
The best example of this fashion house in action is the film "The Great Beauty (EN) - La Grande Bellezza (IT)"
In this film Sorrentino (director) wanted to portray decadence and wealth - and did so through the use of Cesare Attolini suits.
All of the suits were made specifically for the film - made to measure.
With an average cost of around $1000 - They are on the lower end in price - but definitely not in quality.
Best known for their suits, blazers, and overcoats.
Want to learn more about dressing elegantly without flaunting your wealth? Check out our favorite stealth wealth brands here!
FAQs
What brands do the ultra-wealthy wear?
The ultra-wealthy often wear brands such as Zilli, Kiton, Stefano Ricci, Tom Ford, Brioni, and Cesare Attolini.
Where do rich people shop?
Ultra high-end brands often have exclusive boutiques and flagship stores around the world. Some brands also offer VIP clubs for their top-spending customers.
What is a sartorial brand?
A sartorial brand is one that specializes in tailored clothing, often handmade. These brands are known for their exceptional quality and craftsmanship.
What is the difference between old money and new money brands?
Old money brands are those that have been around for a long time and are often associated with tradition, heritage, and understated luxury. New money brands, on the other hand, are often flashier and more focused on current trends.
What is a stealth wealth brand?
A stealth wealth brand is one that is luxurious and expensive, but doesn't flaunt its logo or branding. The quality and craftsmanship speak for themselves.